Enchanting is a way to empower a weapon or defensive piece with an element, and increase its power immensely. This guide will tell you how to enchant a weapon, detail all the ranks and how to achieve them, and guide you on choosing the right element for you
The elements
Edit
There are 4 elements in the game of luminary:
Fire
Wind
Water
Land (Earth)
These elements each have a weakness and a strength against another element. This should be taken into consideration when choosing what element to enchant.
Strengths
Edit
Fire defeats Wind
Wind defeats Earth
Earth defeats Water
Water defeats Fire
Weaknesses
Edit
As well as these strengths, each element's weakness is itself. For instance, if wind attacks wind it will have less effect
For example, if you use a Fire enchanted weapon against a Ninja Panda(Wind monster), it will have an increased attack. But if you use that same Fire weapon against a Lich(Fire monster) it will have a weakened attack.
How to enchant
Edit
To open the enchant window, start by opening your inventory (Click "Inventory Info or press Alt-I)
Then click Mix to bring up the window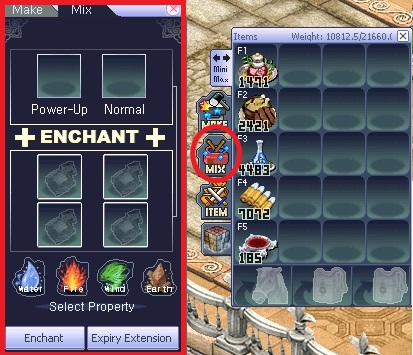 Place 2 of the same type of weapon(e.g. Bamboo Cane) in the top 2 slots (The one in Power-Up will become enchanted. The one in Normal will be destroyed, so put the stronger one in Power-Up)
Choose one of the elements along the bottom (You can't change the element on that weapon after enchanting, so choose carefully)
Click Enchant
Further Ranks
Edit
Open the Mix window again
Place your enchanted weapon in the Power-Up slot, and another of the same type of weapon in Normal (normal slot one doesn't have to be enchanted)
Fill the slots with Element Stones and Blessing Stones (and Miracle Hammers/Miracle Nails depending on your need)
Click Enchant
Enchanting Items
Edit
These are the items that are needed for enchant attempts above Rank 1
Element Stones
Edit
There are 4 elemental stones in the game of luminary
You need to use the stone type matching your element, every time you attempt to enchant above Rank 1. Below is a list of the amounts you will need
Rank 2 - 5 Element stones (& 5 Blessing Stones to prevent losing item)
Rank 3 - 5 Element stones (& 5 Blessing Stones to prevent losing item)
Rank 4 - 7 Element stones (& 7 Blessing Stones to prevent losing item)
Rank 5 - 7 Element stones (& 7 Blessing Stones to prevent losing item)
Rank 6 - 10 Element stones (& 10 Blessing Stones to prevent losing item)
Rank 7 - 10 Element stones (& 10 Blessing Stones to prevent losing item)
Rank 8 - 15 Element stones (& 30 Blessing Stones to prevent losing item)
Rank 9 - 15 Element stones (& 40 Blessing Stones to prevent losing item)
Rank 10 - 20 Element stones (& 100 Blessing Stones to prevent losing item)
Blessing Stones
Edit